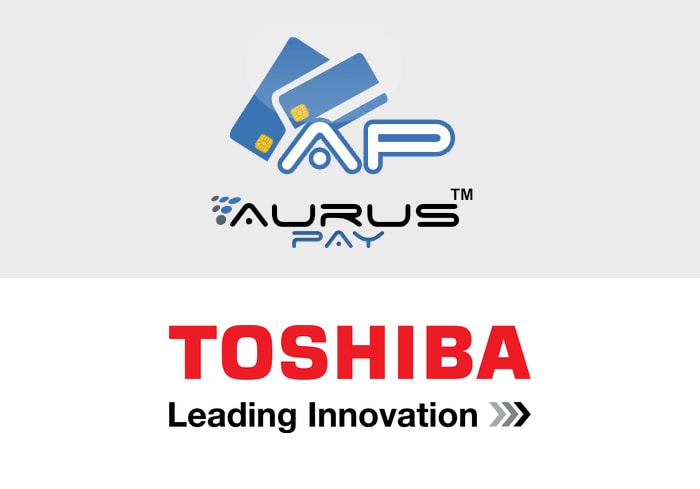 January 17, 2016, Boston, Mass. – Aurus, Inc. a global leader in innovative payment solutions and Toshiba Global Commerce Solutions a global market share leader in retail store technology, will be demonstrating a flexible semi-integrated EMV payments solution to global retailers at the NRF Retail Big Show 2016.
Today's retailers must be able to effortlessly manage payments with unlimited flexibility, while ensuring that credit and debit card data is protected against malware attacks. In collaboration with business partner Aurus, Toshiba will be demonstrating a flexible, semi-integrated payments solution to global retailers. This solution "takes the POS out of PCI Scope" by providing security features such as P2PE and Tokenization. The solution enables merchants to accept EMV chip cards from 7 major payment processor platforms in the US plus new ways to pay such as Apple Pay, Android Pay and Samsung Pay. The solution has a robust Enterprise Portal to help the retailer manage the back office functions such as reconciliations, loss prevention and device management. Further, the customer can easily adapt and scale as store needs evolve its payment acceptance in a new Omni-Channel world.
"With the new requirements to accept EMV Chip cards and Indiana E-WIC cards, Marsh Supermarkets turned to Toshiba to provide an innovative solution to achieve the deadlines while delivering a solid ROI," said Jay Stanley CIO of Marsh Supermarkets. "The innovative Toshiba and Aurus semi-integrated platform solution was selected as the best future based strategy to allow Marsh to successfully manage the rapidly evolving payment environment."
Visit the demonstration of the Toshiba and Aurus solution in the EXPO Hall at Retail's Big Show, #NRF16, Toshiba Booth 2563 and the AurusPay solution, Booth 4151.
About Aurus, Inc.
Aurus Inc., headquartered in Boston with development offices in Pune, India, is a global leader in providing innovative technology solutions using economical development models for Fortune 2000 companies in retail, healthcare and financial services industries. The Company's global PCI-DSS and PA-DSS certified processing platform (AurusPay™), protects retailers POS card data against malware attack using it's innovative patented security solution, AurusShield. Aurus provides expertise, solutions and custom development for payment processing, BYOD mobile development, EMV/NFC, store systems integration and security solutions. For more information visit: www.aurusinc.com
About Toshiba Global Commerce Solution:
Toshiba Global Commerce Solutions is retail's first choice for integrated in-store solutions and is a global market share leader in retail store technology. With a global team of dedicated business partners, we deliver innovative commerce solutions that transform checkout, provide seamless consumer interactions and optimize retail operations that are changing the retail landscape.
Media Contacts:
Bob Wesley
Aurus, Inc.
Solutions, Inc.
+1 781-688-1575 x 115
Renee Kiefer 
Toshiba Global Commerce Solutions, Inc. 
1.919.523.7241